Aircraft Sketch Shooter
Game Patch #1 and Highscore Weekend
---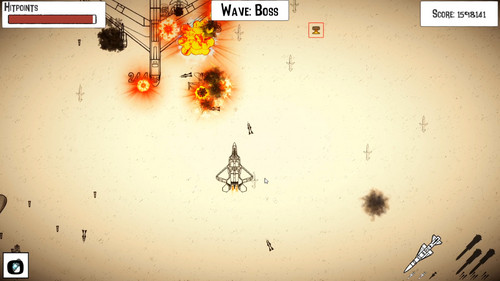 Short Information about the Highscore Weekend:
We are planning a Highscore Weekend on 30 January until 31 January
In That Time various Content Creator, Streamer and also Team and Friends will go on Highscore Races.
You can Win Keys on Giveaways and for participating on the Highscore List.

More Informations will follow in the Next Days, so stay Tuned!

We are Updating Aircraft Sketch Shooter to give the Players a better Experience to Play.
Thanks for giving us Suggestions and Feedback.
Adjustments based on User Experience:
The Background is very Distracting in Dark Mode:
The Background of the Gamefield in Dark Mode has been Adjusted and is now less distracting.
Airfield 4 Boss is to Difficult
We adjusted the Difficulty of the Airfield 4 Boss.
Bug Fix:
Airfield 4 and 10: There was a Bug that caused the Player in an Endless Loop.
Local Highscore: The Highscore List has been resetted, during a Bug all Players had the Developers Highscorelist.
What Else:
We are planning to implement multiple Languages to Aircraft Sketch Shooter to give it a final Touch.
Get Aircraft Sketch Shooter